Men's Ministry
As iron sharpens iron, so one man sharpens another.  –Proverbs 27:17  
Confidential Accountability Groups
Ramoth's accountability groups are the best environment to experience lasting transformation and deep community with other men.  You'll take a risk to trust and depend on the insights of other men as they challenge you to be more like Christ.
Sundays 9:00 am Connection Class
A place where you will be challenged to get out of your comfort zone, to be honest about the areas where you struggle to follow Christ, and find encouragement and wisdom from other men on the journey.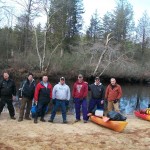 Adventure / Activities
Kayak trips and camping, skeet shooting, basketball, men's retreats, movie nights, and other user-friendly bridge building events.
For more information, please contact John Kinnan azurnam@comcast.net or Pastor Eddy Haney ehaney@havenofvineland.com